 Built-In Prestige Pro™ 825 RBI
Infrared Bottom & Rear Burners

The Built-in Prestige PRO™ 825 Propane Gas Grill with Infrared Rear Burner is beautiful and spacious, perfect for feeding a crowd, or just a couple people. Two heads are better than one, and the same is true for this grill. Two separate grill heads allow for a multitude of cooking options including direct searing over infrared heat, indirect cooking, and using the rear burner for perfect rotisserie meals. You'll know it's a Napoleon with the iconic WAVE™ cooking grids for those distinctive sear marks. Turn this grill into a smoker by using the integrated wood chip smoker tray. The LED Spectrum NIGHT LIGHT™ Control Knobs have near limitless color options making night-time entertaining a breeze, and they also glow red when the gas is left on as a safety feature. This means you always know which burners are lit, making it easier to get the perfect sear or the ideal indirect grilling position. Stainless steel construction with chrome accents provide unparalleled durability and style making this grill the crowning jewel of your outdoor kitchen.
Specifications
Proximity Lighting Display
Interior Grill Lights
Lift Ease Centre Gravity Roll Top Lid
Instant JetFire Ignition
Dual Level Stainless Steel Sear Plates
Accu Probe Temperature Gauge
Specifications
BTUs

106,000

Cooking Area

1,245 sq. in.

Width

56 in.

Height

25.25 in.

Depth

25.25 in.
Warranty
President Limited Lifetime Warranty.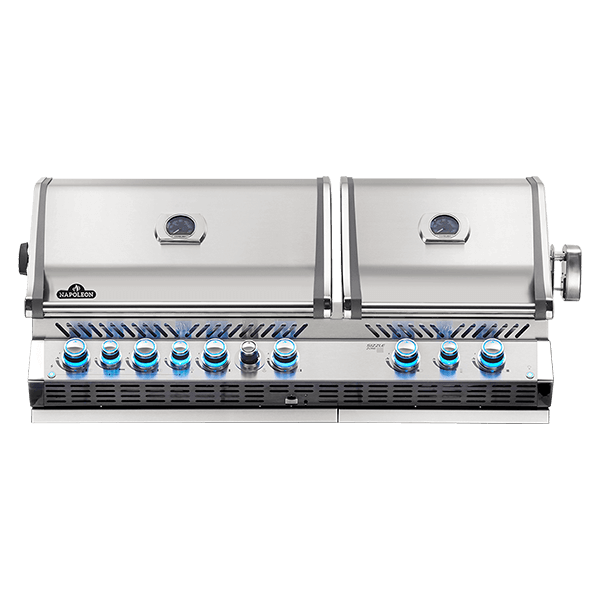 Have Questions?
We'd love to help you pick out your dream grill, or answer any questions you have.